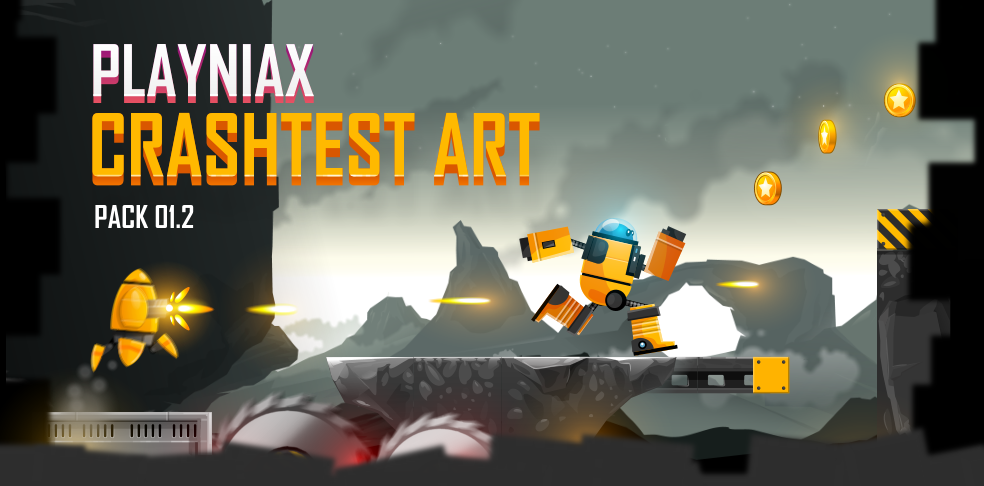 CrashTest Art
A downloadable asset pack
YOU HAVE A GREAT IDEA FOR A GAME BUT NO ART?
As a coder or game designer you sometimes run into this problem of having an idea for a game but no quick means of making it because you just don't have any graphics. We at Playniax know the problem all to well so we created a set of graphics that look cool and are very helpful in bringing your idea's come to life!

This pack is all about 2d platformers and it contains all you need to get going. We're planning to extend this pack with more artwork and make other packs for other types of games.
SO WHAT DO YOU GET WITH THIS RELEASE?
TILESETS

1x Basic tileset

(NEW )


For building your Platform style levels ( including animations )
2x Props tileset ( NEW )
For game object such a doors, coins, gun, bullets, trap doors, saws, etc. ( including animations )
ANIMATED SPRITES

1x Dumbot Sprite character
Running
Idle ( x2 )
Getting hit
Getting killed
Jumping ( x3 )
Running & Shooting with gun
Idle with gun
Shooting straight & up with gun

1x Turret Sprite character
Walking
Shooting
Jumping

1x Visual effect pack
Bullets ( x12 )
Explosions ( x2 )
Particle Shapes ( many )
BACKGROUND

Basic Background, Cool Sky, Industrial, Sunset & Barren Planet

(PREMIUM)
GAME GUI (NEW)
500+ Buttons (shapes, states, symbols, languages, social, etc.)
47+ Icons (arrows, highscore, settings, etc)
15+ Panels (portrait, landscape, in 2 colors, fills, etc)
EXAMPLES
3x Tiled Levels
Demo levels created in Tiled ( tmx )

1x Pyro 2 Loader example
Demo level converted to Pyro 2 with Pyro 2 Tiled Converter
THIS PACK WILL GET REGULAR UPDATES!
Next up : More weapons & animations ( wall sliding, climbing, etc )
ALSO NICE : SPACE SHOOTER ART PACK
More Playniax Assets & Tools HERE!
License
Credit/attribution is not mandatory, but appreciated. To credit us : "Playniax CrashTest Art Pack" by Playniax. The assets can be used for non-commercial or commercial project. Asset may be modified. Modified versions must be plainly marked as such, and must not be misrepresented as being the original. The assets can be used for 1 title. The asset itself cannot be freely shared or resold!
Purchase
In order to download this asset pack you must purchase it at or above the minimum price of $10.00 USD. You will get access to the following files:
crashtest_art_pack_01.zip
11 MB